Work has changed. Forever. You are currently stuck at home or operating in some hybrid fashion. Your colleagues are scattered in different locations and it is difficult to build the right kinds of relationships that foster success. All of this would be disruptive enough, but the world around your work has also changed. It is filled with upheaval and social disruption.
This is a time unlike any other, and that forces us to rethink so much of what we do and how we do it. That is why you should listen to this session with businessman, entrepreneur, leader and visionary Rishad Tobaccowala.
Rishad is a recognized leader, having driven the digital strategy for brands for many years. Rishad has recently written a book called "Restoring the Soul of Business: Staying Human in the Age of Data". He also penned an overview called "The Great Reinvention" which deals with topics of morality, intelligence and integrity as applied to social change and business operations. His insights are key to us finding a way to retain our humanity and become better all-around people in this new "future of work".
Watch this on-demand session!
About the presenter:
Rishad Tobaccowala

Rishad Tobaccowala ( @rishad ) is the author of the bestselling "Restoring the Soul of Business: Staying Human in the Age of Data" published by Harper Collins globally in January 2020. It has been described as an "operating manual" for managing people, teams and careers in the age we live in. Rishad is a sought-after speaker and advisor who helps people think, feels and see differently about how to grow their companies, their teams and themselves.

More about Rishad Tobaccowala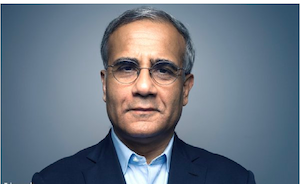 Register today for this on-demand presentation!


* required fields